Connect with nature
in the heart of Tuscany
Ebbio is the perfect retreat and holiday location in the hearth of Tuscany. Ebbio is a restored 13th century farm beautifully transformed in a tranquil spot for retreats and holidays. Nestled inside an evergreen forest, it sits on an extinct volcano that was sacred to the Etruscans, and overlooks the medieval walled town of Monteriggioni.
Ebbio's family includes Sibilla, Francesca, Nyshi, Bardhyl, Jane, Elkabira, the beloved Wwoofers, as well as geese, chickens, horses, donkeys, dogs, cats and plenty of butterflies. The country ways of old Italy are preserved here, where we dedicate ourselves to the organic cultivation of our olive trees, vineyards, fruit, vegetables and herbs, which we then use in preparing our home-made vegetarian meals. The unique décor of our ten bedrooms builds on this traditional heritage, with earthly colours and windows onto the rolling Tuscan hills.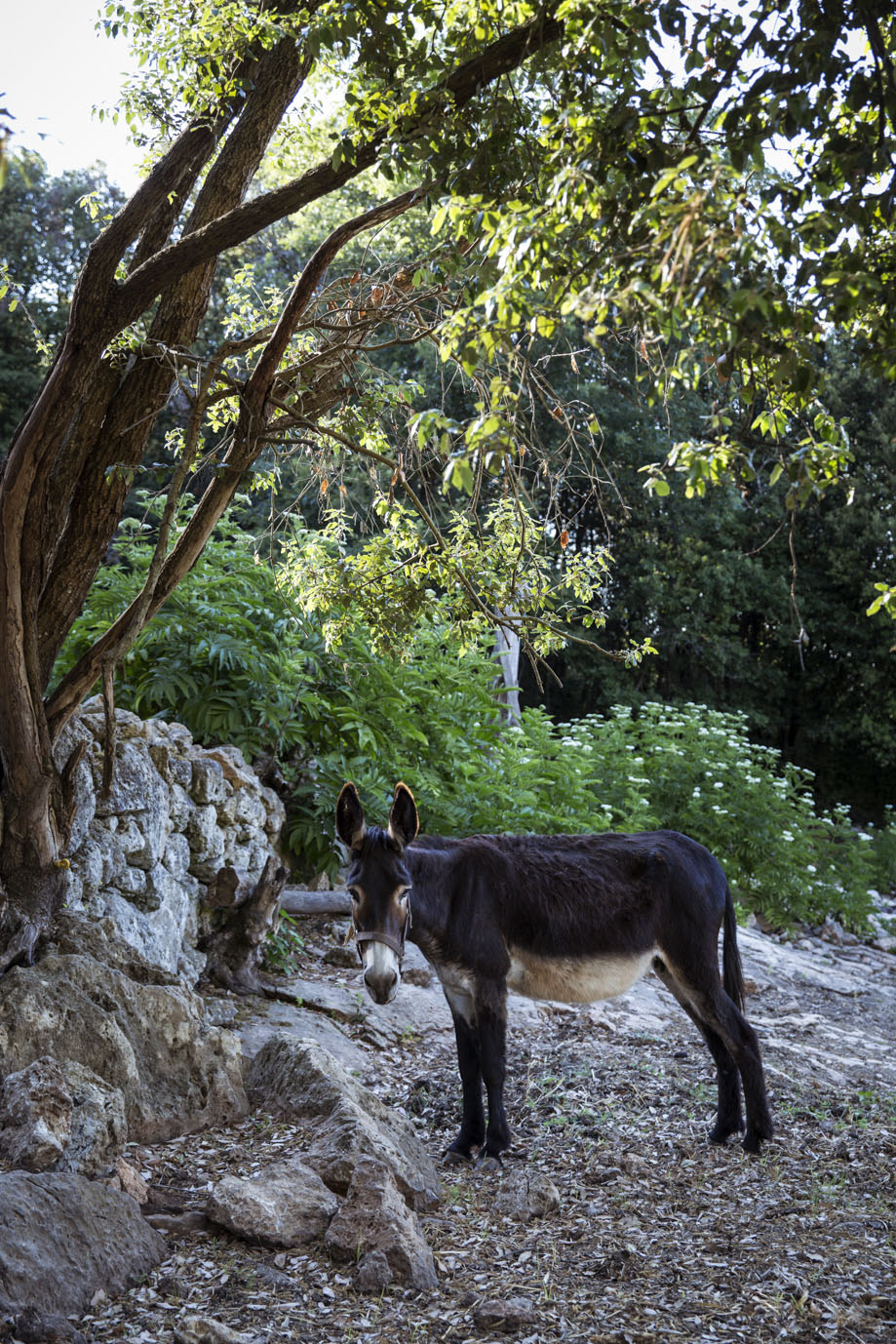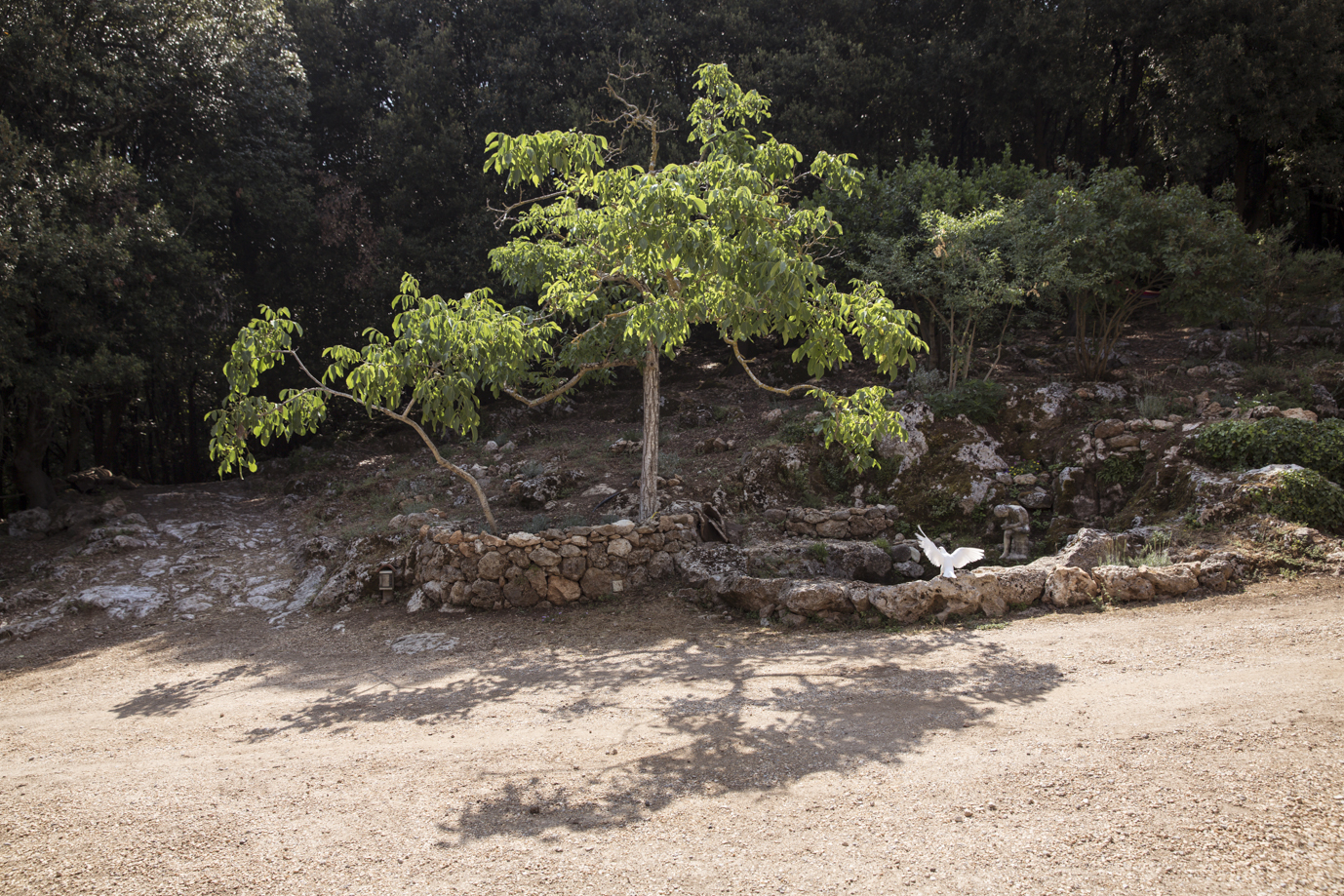 Within easy reach of nearby cities, including Siena (10km) and Florence (45km), and a short walk from Monteriggioni, Ebbio is seated in the heart of the region of Tuscany, renowned for its fertile landscapes and artistic heritage. Flavours, smells, sounds and sights combine with history to create a holiday experience that is like stepping into another world.
Here at Ebbio we draw on twenty years of experience to create the perfect space for unforgettable retreats – centre your mind and body in a spot that is the ideal location for the practice of yoga, meditation, holistic therapy or for a creative getaway. Our spacious indoor activity studio is complete with a wooden floor, outdoor patio and plenty of yoga mats. We welcome groups of up to 25 people for visits of all kinds, from special celebrations to family getaways. Our site is ideal for groups led by instructors or trainers, but can also accommodate larger corporate events or even weddings – if you would like to book the whole villa we can easily design packages and activities to suit your needs.
It was the lifetime dream of one woman, my mother, Francesca Bevilacqua (known as Nirdosh among her closest friends). Ebbio is a 13th century farmhouse surrounded by seventeen acres of rustic countryside in the heart of Tuscany, near Siena. She bought it in 1989 in a state of total abandonment and ruin.
Did I mention that my mother has never been a pragmatic woman? 
In her mid-forties, after several trips to India, a change of diet, lifestyle, and clothing, my mother had decided to flee the city forever. Her dream was to create a community where people from all walks of life could share their passions. Ebbio's farmhouse was certainly big enough to contain her vision. But her vision was even bigger than she had feared!
At the beginning it was just Mamma, and her six-year-old daughter – myself. I watched as she devoted herself to the study of nutrition science, macrobiotics, vegetarian diet, and alternative healing. She explored natural plant remedies, ayurvedic medicine and any other "new age" trend she encountered along her path. Her goal was to live in harmony with nature, respect the seasons, and live sustainably. And to be surrounded by people who felt the same. In other words, long before we were all glued to social media and our phones, Mamma was a pioneer of what has become most rare and appealing to us today. 
I, however, felt differently. I'd had enough of the commune lifestyle and wanted to explore the world outside. At age thirteen, I ran away.
Twenty years on, I'd traveled the world, lived in 7 different countries, and founded two successful companies. I had also earned myself some time off. So when my mother told me she needed a hand, I decided to go back. Just for a little bit, I told myself. My only objective being to help my mother with her project, and then return to my life in Paris. Obviously.
It's funny how life works out.
I soon discovered that a mother's lifetime dream is somehow yours as well. For so many years I had sought – and found – comfort and approbation in the fashion and luxury world. And yet, there was always this sense of something missing. 
Ebbio became my therapy.
Nature, plants, animals. Getting my hands dirty. I began to understand the history and the soul of the place, one whose value now resonates with my own generation. I felt free. And I became part of it. And, as I would with any client (I'm an image consultant, after all!) I found myself waking up in the night, thinking of ways to make the experience even better.
Thirty years after Mamma bought it, Ebbio has evolved from a slightly disorganized commune to one of the first wellness retreats of its kind. We host workshops and all things yoga and holistic health-related. We hold cooking workshops and learn about food preservation (jamming, jarring, barding, sun drying, salt preserving…), and even natural cosmetic-making. Guests tell me they adore the feeling of family. And it's true, I get everyone involved in our rural adventures. (This is mostly spontaneous, you understand, since that is how we (Italians) are.) 
You may eat your meals on hand-painted Ginori porcelain, but you're just as likely to step in donkey excrement on your way to the tree house. We're a self-sustainable farm whose unique flavors derive from the land, and the diverse richness of two women's lives, tastes, and experiences. We produce all the fruits and vegetables we serve. And each is picked just hours before it reaches Ebbio's enormous dining table (we've had twenty guests gathered around at one time!). My mother creates the recipes and cooks every single delicious bite. Mixing tradition with innovation, creativity and modern simplicity, she has a gift. Even non-vegetarians (I'm not, outside Ebbio) forget they're eating vegetarian meals. If they are meat-free, they're even more impressed! 
Nowadays, I'll find myself out in the woods, wild foraging with our guests. I love seeing their faces as they discover the simple joy in finding the object of desire, whether porcini mushrooms, chanterelles, asparagus, stinging nettles, or wild little sprouts. Like Ebbio itself, there is something ancient and human about this connection with the natural environment that is too precious to lose. In our noisy, crazy world, true luxury lies in being able to unplug and reconnect. With nature, with animals, with others – and yes, with yourself.
PODERE EBBIO
Strada del Gallinaio, 9
53035 Monteriggioni - Siena - Italy
tel. +39 345 55 264 20
[email protected]
#connectwithnature @ebbiotyscany | Terms & Conditions